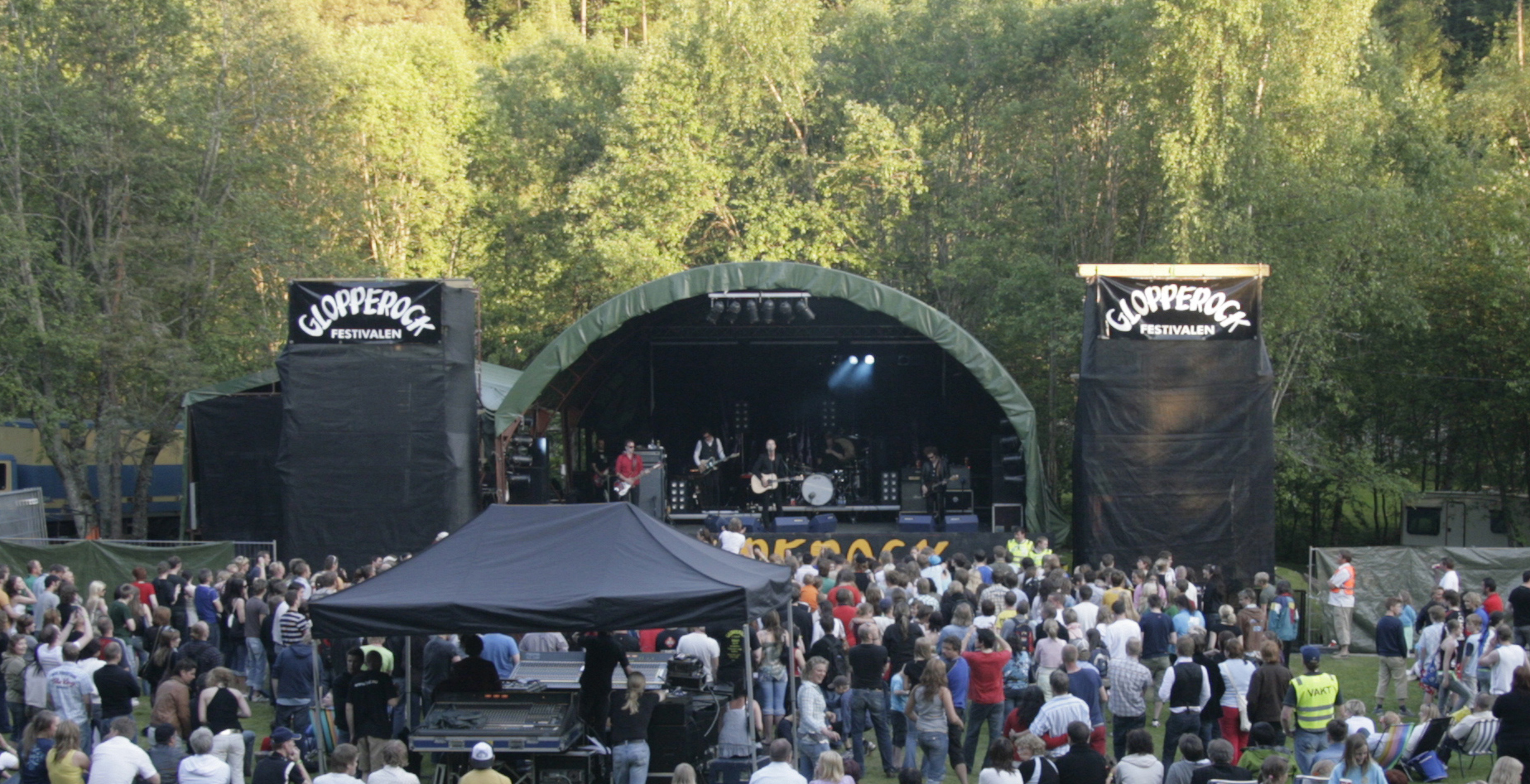 Glopperock si historie
2019
Kari Bremnes med band, Line Dybedal, Vidar Villa m/band, Oselie, Karianne, Agnar Gjelsvik, DJ Hamy
2018
deLillos, Ola Tennes, Ingrid Wergeland Hansen, Halie, Vilde og Anna, Sofia, Kyrre Stegane, Ola Tarjei Kroken
2017
To Rustne Herrer, Håvard E Husevåg, The Poor Boys CC Revival Band, Rune & Brahim
2016
Ingebjørg Bratland band, Katastrofe, Torbjørn Gran, Kennet B, Håvard E Husevåg
2014
Henning Kvitnes & Gutta i bandet, Atle Pettersen, Erik og Kriss, Furutre.
2013
Halvdan Sivertsen m/band, Eva & The Heartmakers, Jenny Langlo m/band, Georg Lipai, John Olav Nilsen & Gjengen, El Cuero, Special Kids Unit.
2012
Bjørn Eidsvåg m/band, Gabrielle, Staut, OsloEss, Kokken Tor, Drusar, Torbjørn Gran & Øystein Eckhoff, Siri Byrkjedal
2011
Jan Eggum, Stein Torleif Bjella, Erik og Kriss, Fjorden Baby, Tyyl, ViMenn, Øyvind Aasen Gloppestad, The Last Province.
2010
Åge Aleksandersen & Sambandet, Keep Of Kalessin, Audrey Horne, David Urwitz, Pony The Pirate, Punch, Jonas Fjeld & Hilde Heltberg, Roy Aron Myklebust,
2009
Hellbillies, CC Cowboys, Ungdomskulen, Norma Sass, The Generous Days, Impedansebande, Baste Bolstad, Vamp, Tone Damli Aaberge, Kruttrøyk.
2008
Madrugada, Big Bang, Ida Maria, Stage Dolls, Ingenting, Audrey Horne, The Naked Inhabitans, Vagabonds. Anders Ryssdal.
2007
Nazareth, Susanne Sundfør, Eva & The Heartmaker, El Caco, Nullskattesnylterne, Joe Frog, Catastrophes. Johan Golden, Twilight, Vagabonds, Leiv Reed, Torbjørn Gran, To Vise Menn.
2006
Madrugada, Maria Mena, Tone Damli Aaberge, Honndalen Soul & Funkarlag, Ole Staveteig m/band, Impedansebande, Magnum 88, The Smokin` Devils, Lomsk, Gil Edwards, Celebration Boys.
2005
Wig Wam, Bertine Zetlitz, Gåte, Kokken Tor, Tore Nesbakk Bluesband, Torbjørn Gran, Gjermund Elgenes, Hitcompany, Verk
2003
TNT, Briskeby, Maria Arredondo, Stoltz, Wolfram, Seven, Trucks, Stainless
2001
Infinity, Klovner i Kamp, Vestlandsfanden, Reidar Larsen & The Storytellers, Greenland Whalefishers, Psyndromatik, Sigvart Dagsland
1999
Maggie Reilly, Dance With a Stranger, Soda, Voodoobeats, Utopia, Stainless. "Luffen Valle"
1998
D.D.E., DumDum Boys, CC Cowboys, Fabel, Sandwich Boys, Espen "XL" Thoresen, "Luffen Valle".
1997
Hanne Boel, Carlene Carter, Trang Fødsel, Locomotives, Svelekameratane, The Black Sabbath Tribute Band, Bjørn Morten "B.M." Øgård
1996
Amanda Marshall, Savoy, DumDum Boys, Honndalen Soul & Funkarlag, Fabel, Dagfinn Iversen
1995
Uriah Heep, Di Derre, Weld, Hellbillies, Reidar Larsen and the Boogie Bastards, Radionettes, The Tubs, Vangsgutane, Eli Rygg, Two Berets and the Browntie Band, Frode Alnæs
1994
The Hooters, Dance With a Stranger, Trine Rein, Hellbillies, Svelekameratane, Simple Ten, Knut Magnussen
1993
Kim Larsen * Bell Stars, The September When, Eriksen, Pogo Pops, Ingenting, White Boys Playing The Blues, Kennet Sivertsen
1992
Bonnie Tyler, Omar & the Howlers, Øystein Sunde, Stone Acre, Anette Stai
1991
The Black Sorrows, Return, The September When, Annbjørg Lien og Gloppen Jentekor, Firda Bluesband, Feedback, Sticky Fingers, Deep Shit Junkies, Dag Ingebrigtsen
1990
Nazareth, Dance With a Stranger, Tre Små Kinesere, Labbetuss/Geir Børresen, Bokke Reidars Bluesband, Sigrid & Co, Øyvind Lyslo og Jørn Nygjerd, Betty Blue Band, Erik Husabø band, Why Not, Austrheim Mannskor, Jon Bjørn Fløtre
1989
Randy Crawford, Lava, DumDum Boys, Marius Müller, Olav Stedje, The Chance, True Blue, Honndalen Soul & Funkarlag, Arild Nyquist
1988
Magnum, Dance With a Stranger, Good Time Charlie, Mean Streak, Frozen Fruit, Sunrise, Pete Johnsen
1987
Mezzoforte, Littel Eden, Crosstalk, Weekend, Whippoor Will, Halvtan Sivertsen
1986
Manfred Mann's Earth Band, Stage Dolls, Gone At Last, Arena, Halvdan Sivertsen
1985
Nazareth, Cato Sanden Band, Olav Stedje, Weekend, Street Rockers, Torgeir "Toggen" Ulleland
1984
Åge Aleksandersen og Sambandet, City Street Rockers, Pegasus, Country Jamboreè, Chris Q, Sunnmøre Baarrelag, Road, Arne Johan Austrheim
1982
Marie Bergmann, Pegasus/Arne Johan Austrheim, Alice, Chrispinus Ohm, Robin Hitchcock, Motor Boys Motor, Ole Paus
1981
Chris Thompson & Islands, Olav Stedje, Lava, Marius Müller, Saturday Cowboys, Subway, Lazy, Anthill, Hard Rain, Jonny Moen
1980
Åge Aleksandersen og Sambandet, Allison, Stevenson, Bad Cats, Jonny Moen